At present the splitter is merely able to split one file at a time.
Press Open on the screen menu bar, and then select File option on the DropDownList to add the video file from a folder. After choosing the video you want to split, just press OK to complete the addition. Alternatively, you can directly drag the one you will split to the Video Joiner. It can split normal video files that can not be played on Mac OS X.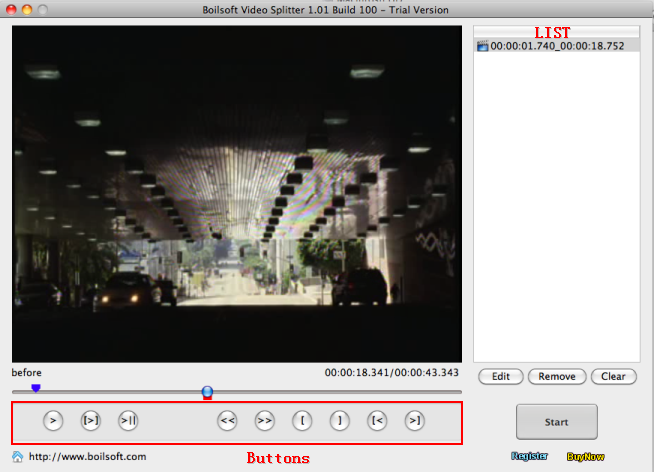 Step 2. Set Start Time and End Time
Press

to play the video. If want to stop playing it, just press

After playing it, press

to set the Start Time and

the End Time. Then the clip will be displayed on the list and also be removed by pressing

.
As this splitter can split an unlimited number of segments at a time, you can repeat as many times as you want.
Optional: If want to minimally adjust the time setting, you can use

to move 200 msec backward and

to move 200 msec forward. For instance, if you set Start Time at 00:00:19:341, select the relevant pointer on the progress bar, and then press

to make it 00:00:18:141 or press

00:00:18:541.
Do you want to further edit it?
Now you can use

to if want to further edit the clip , and a window like this will be displayed: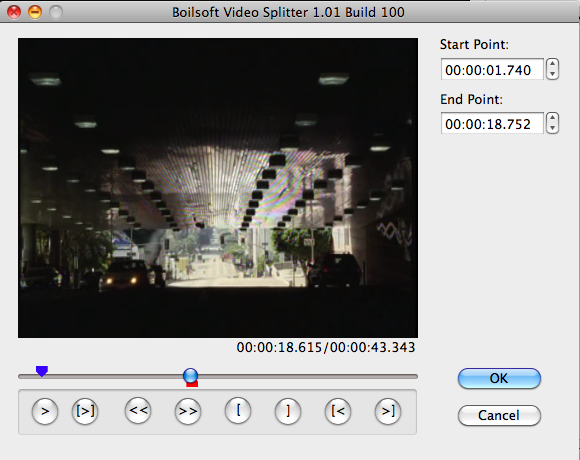 You can input start time and end time in the digital style.
The buttons on this window are equal to their counterparts on the main interface.
If all is done, just press OK
Press Start Button

, and a window will be shown:

Now you customized the name, the format

, and the destination

of the output file.Press Save to start
When the splitting process is finished, a window like this will come out: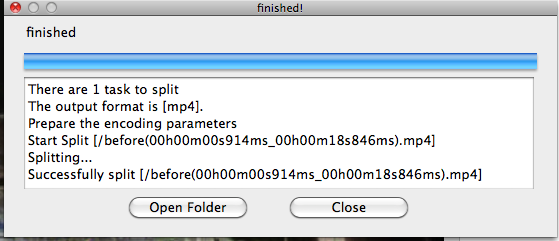 Now you can open the destination folder to gain the clip or close the window