Top 6 Spotify playlist Converter 2018
When you google Spotify playlist converter, you will get kinds of results. How to quickly find the one you want? First you need to make sure your purpose: do you want to convert Spotify playlists to other msic streaming services such as Apple Music, Deezer, Google Play Music, etc. or convert Spotify music to actual formats such as mp3, m4a, etc. You will need different software for the 2 cases. Here we will compare several pSpotify covnerters for your references. You can quickly find the one you want.
Part 1 Spotify to other Music Streaming Services Converter
If you want to convert Spotify playlists to other music streaming services like Apple Music, Deezer, Tidal, etc. so that you can enjoy all songs within one app, you will need this kind of Spotify converter. This kind of Spotify converter are almost online websites like www.playlist-converter.net/, https://soundiiz.com/, https://www.playlistbuddy.com/.
1. Playlist Converter
With the online playlist converter www.playlist-converter.net/, you can easily convert any Spotify playlists to YouTube, Deezer, SoundCloud, free text or link. Just open the website and log in, it will load all your Spotify playlists. Select one playlist you want to convert and then select the target.
2. PlaylistBuddy
PlaylistBuddy allows you to convert your Spotify playlists to YouTube music video playlists and CSV files. Just log in your Spotify account, select playlists and then click Convert.
3. Soundiiz
If you want to Spotify converter that supports more music serivices, then Soundiiz won't let you down. It supports 25 music services. But it's not completely free. The free version can only convert one playlist with at most 200 tracks at a time. There are also other limitations, the premium version removes all these limitations but costs $36 per year.
Part 2 Spotify to MP3 Converter
This kind of Spotify convert allows you to convert Spotify music to actual mp3 files, so that you can transfer and play the songs anywhere you want without internet connection.
1. Spotify Deezer Music Downloader
Spotify Deezer Music Downloader is a Google Chrome extension that adds a download button to each song on the Spotify web player, then you can click the button to download any songs you want. However, it doesn't actually download songs from Spotify library, but from its own multiple mp3 libraries. Due to the missing of some songs, certain songs may not be downloaded or sometimes you may get wrong songs.
2. Spotify Downloader for Android
Spotify Downloader is an app that allows you to download tracks in playlists from any Spotify user account. You just need to enter your spotify user account name (or any account name), click on the playlist, then select the tracks and click on 'Start'. To install it on your Android, visit www.getjar.com, select Quick Download at the bottom of the page and then enter 924986.
3. Boilsoft Spotify Converter
You may wonder is there any playlist converter that can convert songs in Spotify playlists to plain formats such as mp3 to play on any device or music player? The answer is yes. Here we will introduce you a powerful Spotify playlist converter that allows both free and premium users to download and convert Spotify playlists to mp3. It is called Boilsoft Spotify Music Converter. Boilsoft Spotify Music Converter allows you to convert as many playlists as you like to mp3, m4a, wav or flac at a time with 100% original quality. Then you can move them to any device such as mp3 player, iPod, Sandisk or music players.

This is a detailed tutorial about how to convert Spotify playlists to MP3 with Boilsoft Spotify Music Converter and enjoy them anywhere you want.

Step 1 Run Boilsoft Spotify Music Converter
Download, install and run Boilsoft Spotify Music Converter on your Mac or Windows. We will take Mac version as example. The interface is shown as below: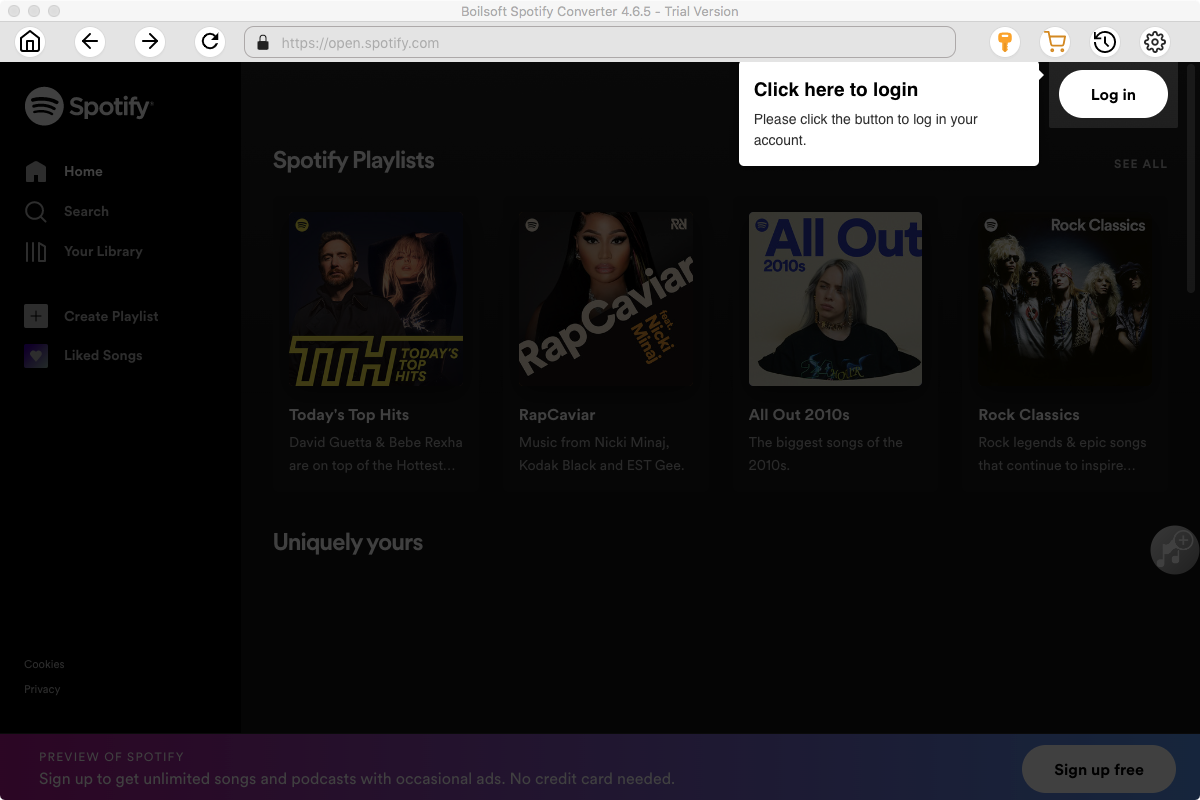 Step 2 Add Spotify songs, albums, playlists or artists
You can now drag&drop the playlists you want to convert to mp3 to the interface directly from Spotify App. If you are using Spotify web player, click Add Files icon and copy&paste the link of the playlist to the bottom input area. Boilsoft Spotify Music Converter will automatically load all songs contained in the playlist.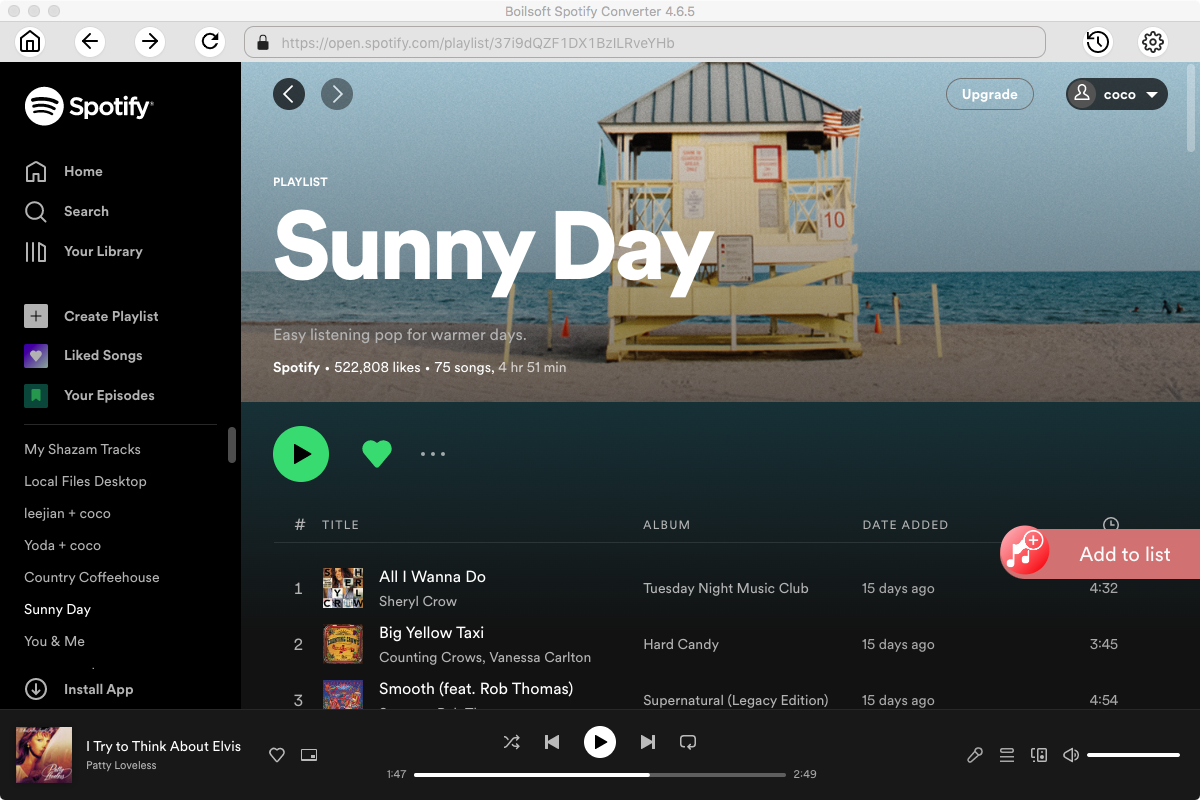 Click Add and you will see all songs on the interface.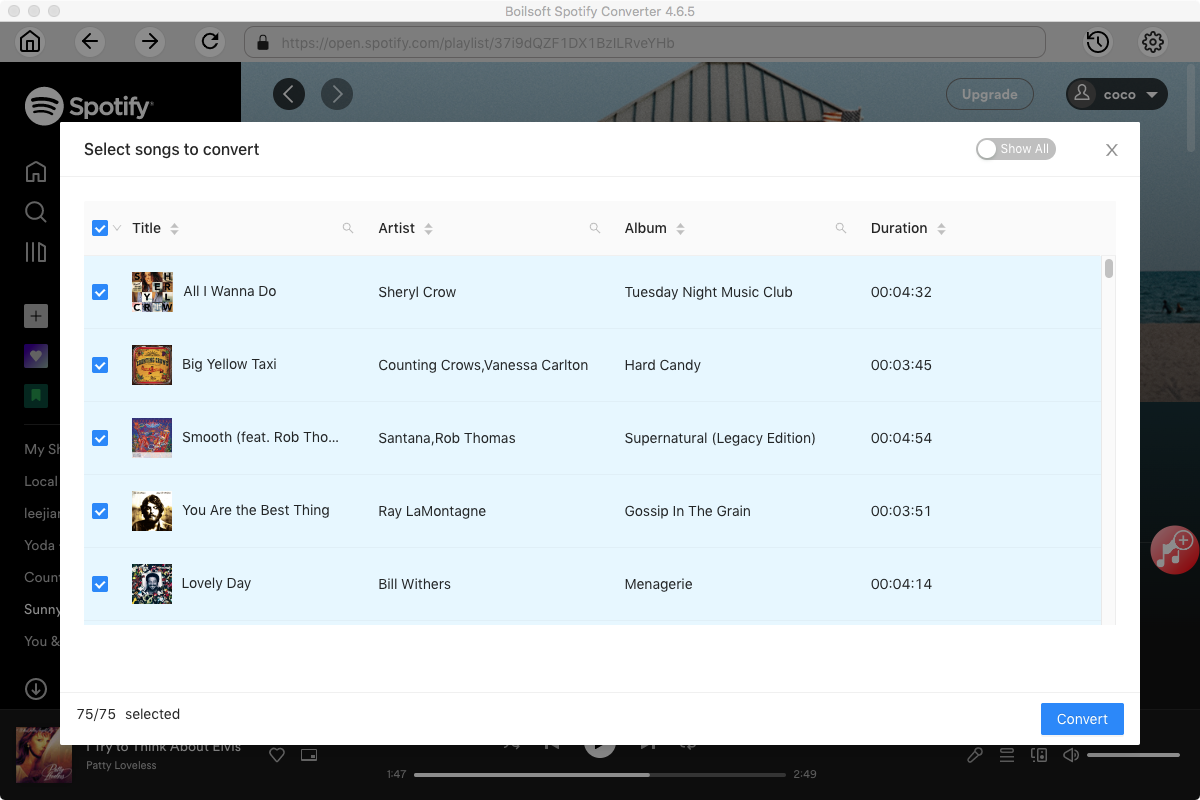 Step 3 Start to convert Spotify playlists to MP3
Click Convert icon to start converting Spotify playlists to MP3. After conversion, you will get the drm-free MP3 music with 100% original quality and ID3 tags. Now you can enjoy them offline, on your MP3 player or burn to CD without any limitations.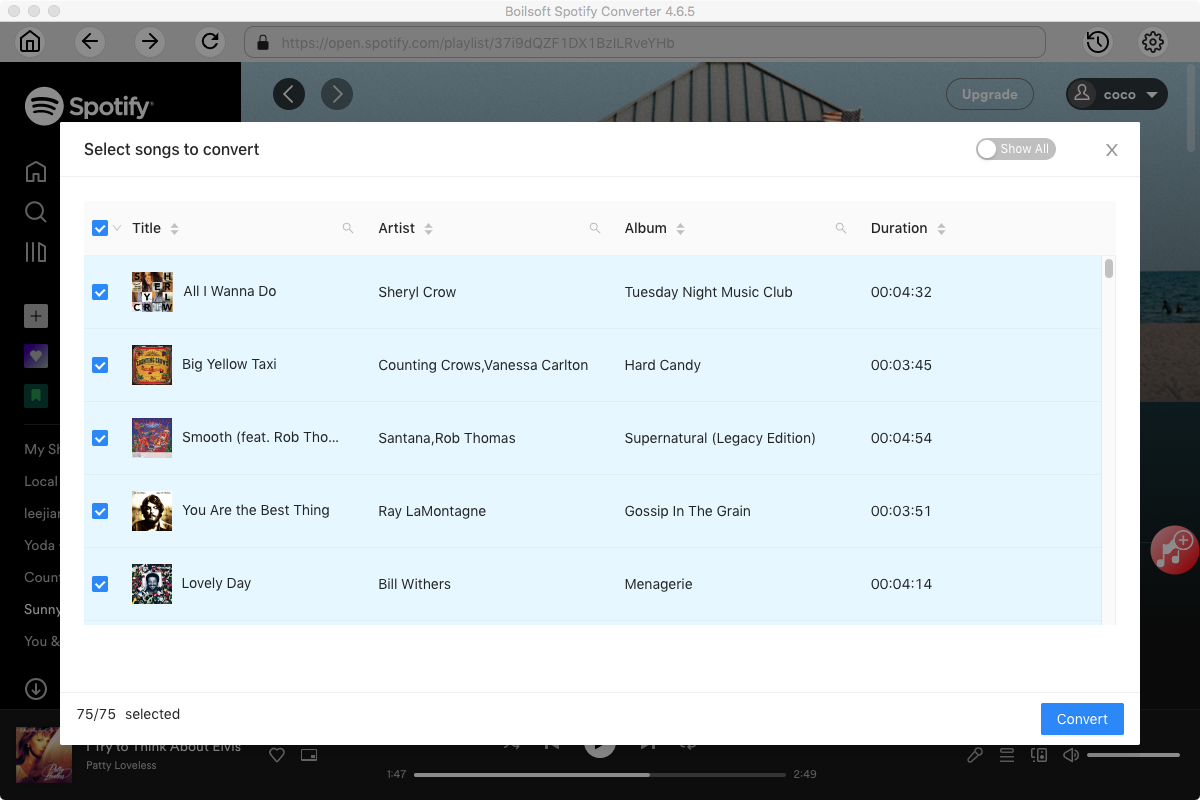 Note:
The default format is MP3. If you want to change output format(M4A, WAV or FLAC), click Option button. You can also set music quality by changing bitrate and samplerate.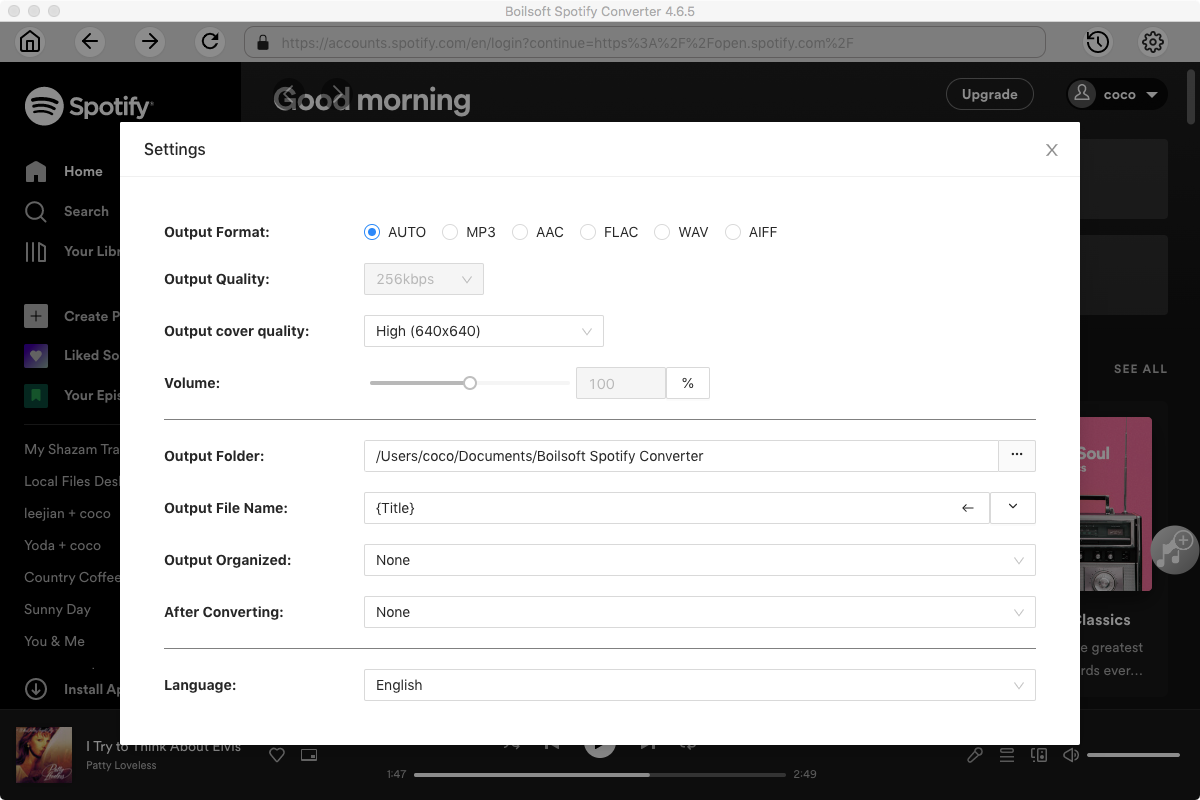 Read More: