Top 2 Free Online Spotify to MP3 Converter That Actually Work
Spotify is a popular music streaming service with more than 30 million tracks and thousands of curated playlists. However, sometimes you may want to transfer Spotify playlists you like to other music services or download them to listen to mp3 players. How to achieve this? Here we will recommend you 4 online Spotify converters.
There are many online Spotify converters on the internet, but few of them can convert Spotify to mp3. Most of the online Spotify converters are designed to convert Spotify playlists to other music streaming services, like Apple Music, Tidal, etc. If you want to convert Spotify to mp3 for offline listening on any mp3 compatible devices, make sure you have chosen a Spotify to mp3 converter. Here we will make this clear for you.
1. www.playlist-converter.net/
www.playlist-converter.net/ is a free online app that allows you to convert your Playlist from multiple Music Services like Spotify, Deezer, YouTube and SoundCloud. You can use it to convert your any Spotify playlists to free, text, YouTube, Deezer, SoundCloud or convert to link for share. Open www.playlist-converter.net and choose Spotify as source. Click Login with Spotify and then choose the playlist you want to convert. It will automatically load all songs in the playlist from your account. Then choose the target service.

2. https://soundiiz.com/
https://soundiiz.com/ allows you to transfer playlists to more services. It supports 24 services including Spotify, Tidal, Deezer, Apple Music, Google Music, Napster, etc. It loads all your playlists, albums, artist and tracks automatically from all your logged in services, so it may seem crowded at the first glance, but it is truly a versatile tool.

3. Spotify & Deezer Music Downloader
Spotify & Deezer Music Downloader is a Google Chrome extension that allows you to download whole playlists and single tracks from Spotify and Deezer webplayer. It adds a download button to the right of each song on web player interface. You can download any track as you like. But it doesn't actually download music from Spotify, instead it uses multiple mp3 libraries to search through and download Spotify music files from, however, a certain amount of tracks are missing in the libraries, therefore, some Spotify tracks won't be downloaded.
4. AllToMP3
AllToMP3 is a free app for Mac, Windows and Linux users to DOWNLOAD YOUTUBE, SOUNDCLOUD, SPOTIFY IN MP3. It's easy to install and use. Compared to Spotify & Deezer Music Downloader, the difference is that it allows users to download a whole playlist, album or single tracks from Spotify. Same as Spotify & Deezer Music Downloader, AllToMP3 doesn't download songs from Spotify library either.
Note
Although https://mp3fy.com/ appears when you google online Spotify converter, it no longer convert Spotify playlist anymore, so you can save your time.
To sum up, the first 2 websites allow you to convert Spotify playlists between different music streaming service, but don't actually download actual songs that can be played offline. If you want a free tool to convert Spotify songs to mp3, you can try Spotify & Deezer Music Downloader.
However, as mentioned above, Spotify & Deezer Music Downloader converts Spotify music to mp3 by searching and downloading the songs from mp3 libraries and some songs may not be downloaded. If you want a more stable Spotify converter, here we recommend Boilsoft Spotify Converter.
Boilsoft Spotify Music Converter allows you to easily extract and save Spotify songs/albums/playlists to MP3, M4A, WAV and FLAC with all original tags and 100% lossless quality. Follow below steps to rip Spotify songs to mp3.
Step 1 Download and install Boilsoft Spotify Music Converter on your Mac or Windows.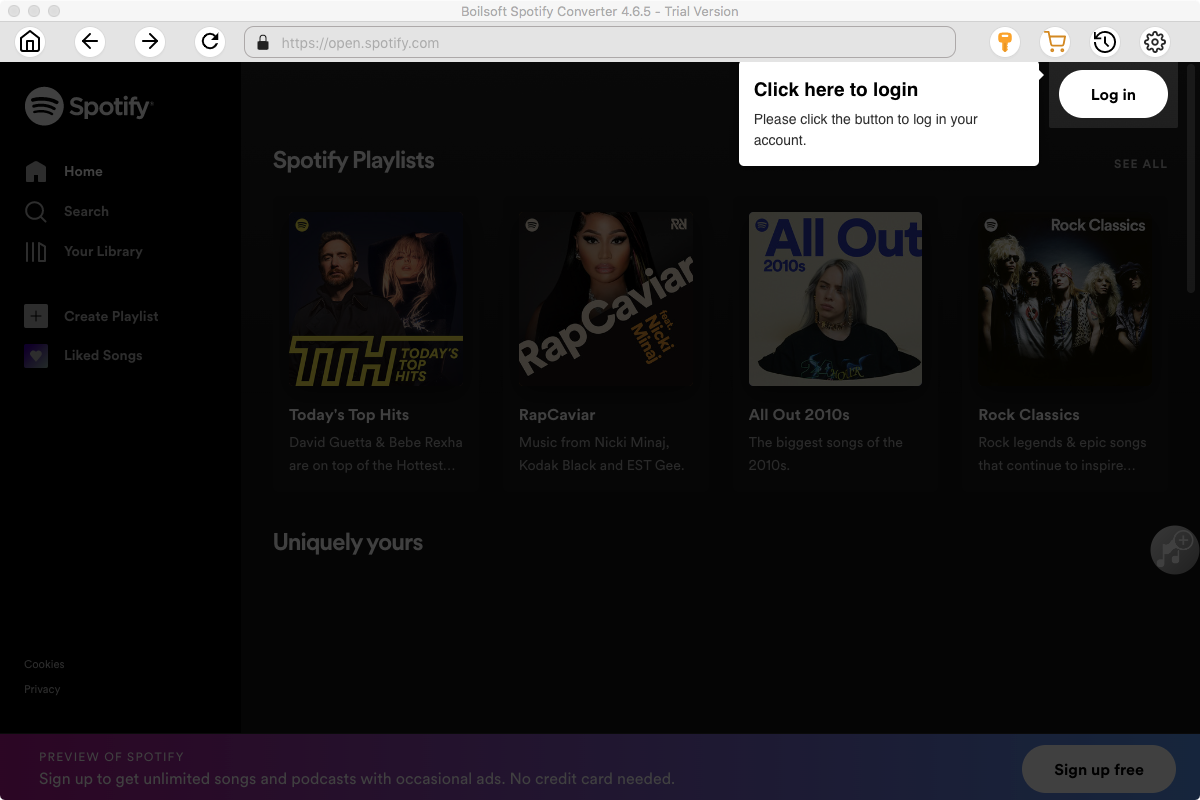 Step 2 Select Spotify songs to rip
Drag&drop Spotify songs, albums and playlists you want to play in the car from Spotify app to the interface directly. Or click Add Files, copy&paste the link of the song, album or playlist to the left bottom area. And then click the Add button.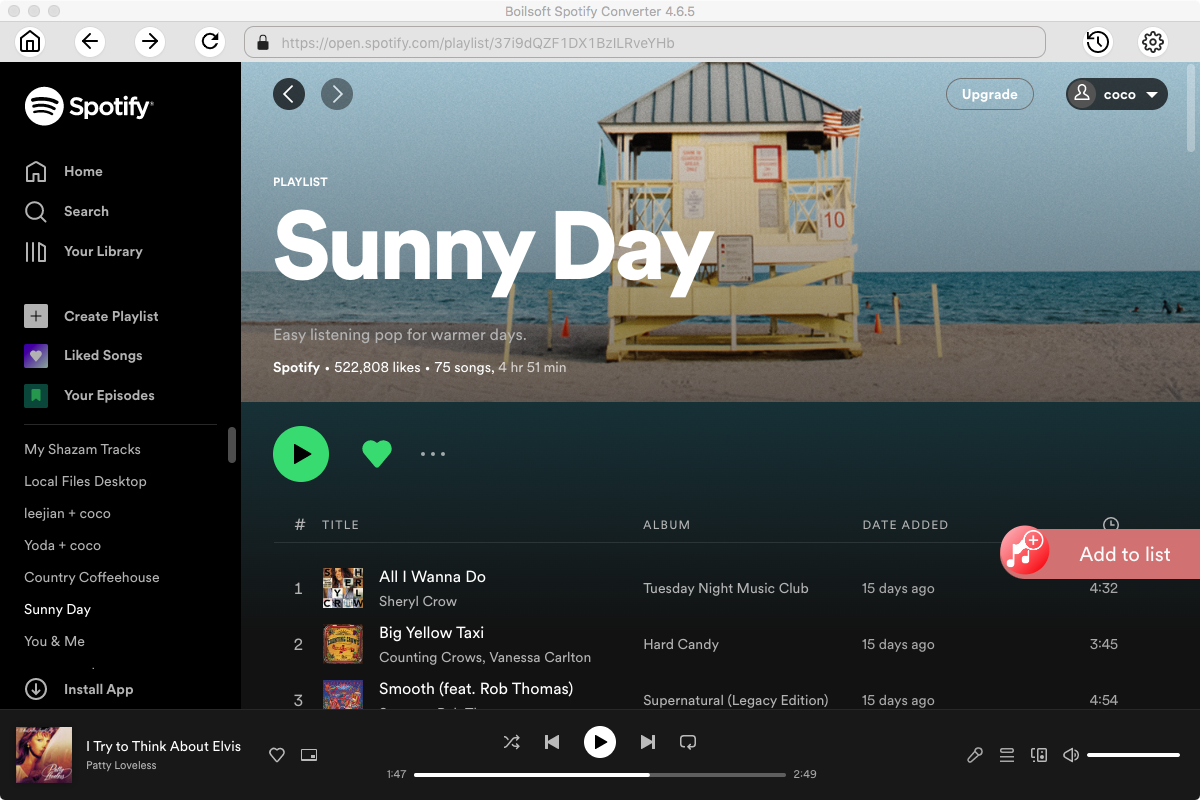 To copy a playlist link, right click the playlist corver or title and choose "Share" - "Copy Playlist Link".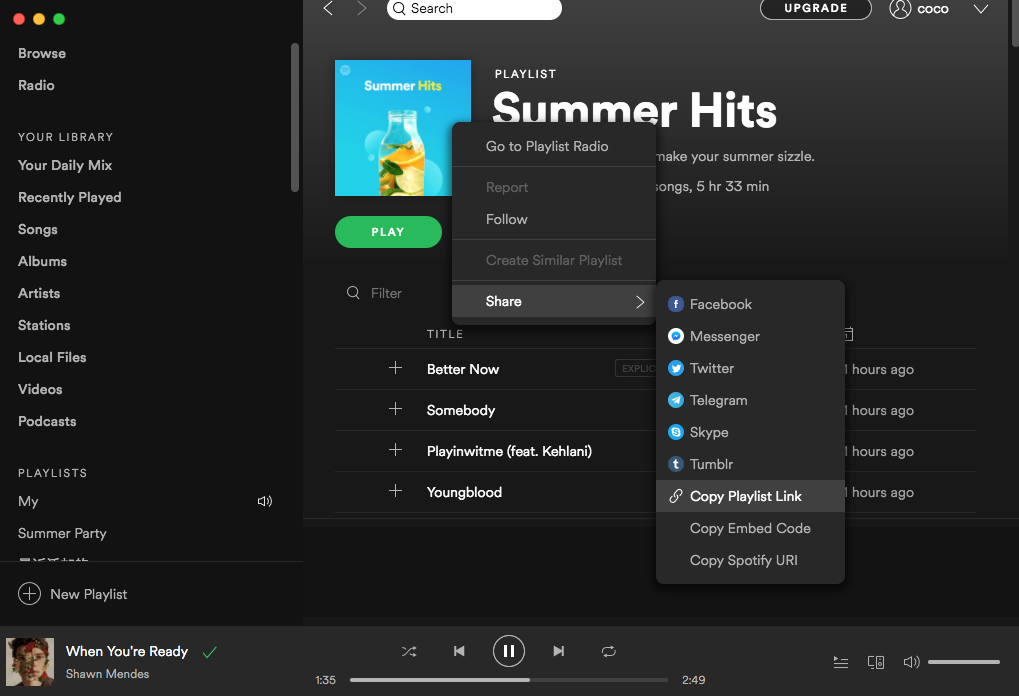 All songs in the playlist will be checked by default, you can uncheck the ones you don't want to convert. Or add more playlists as you like.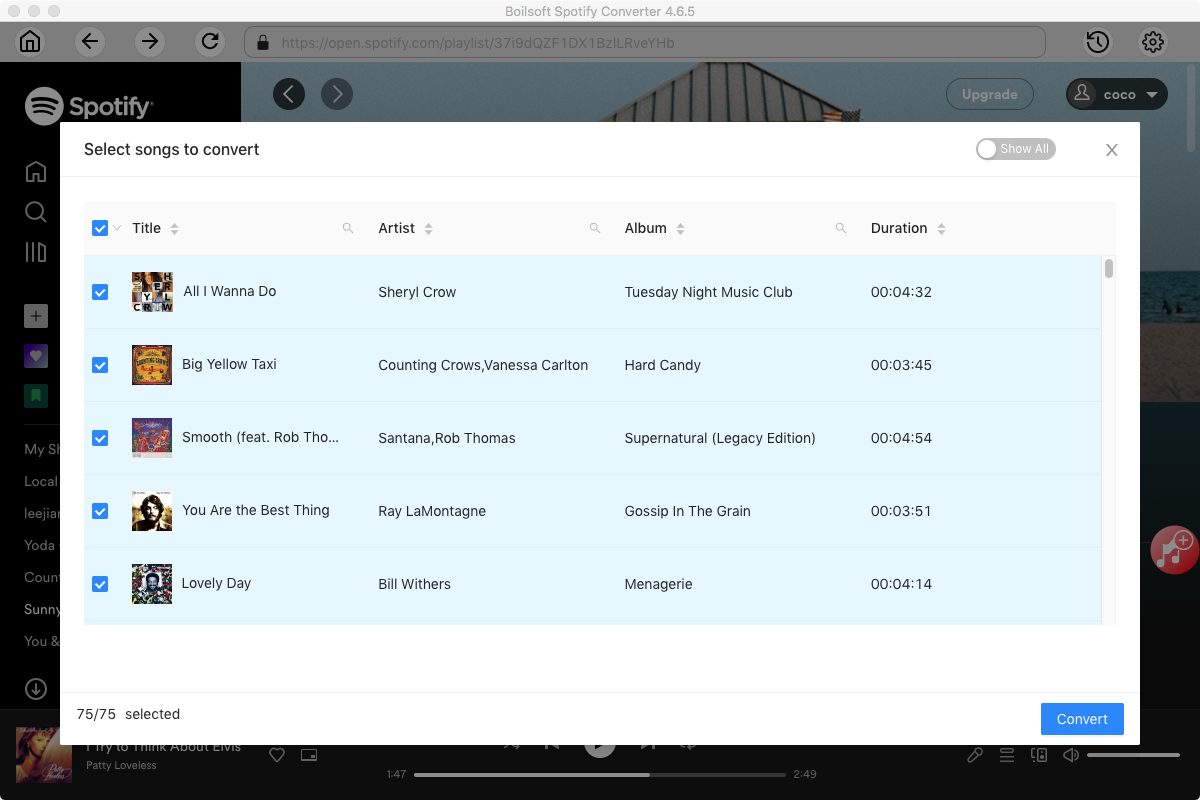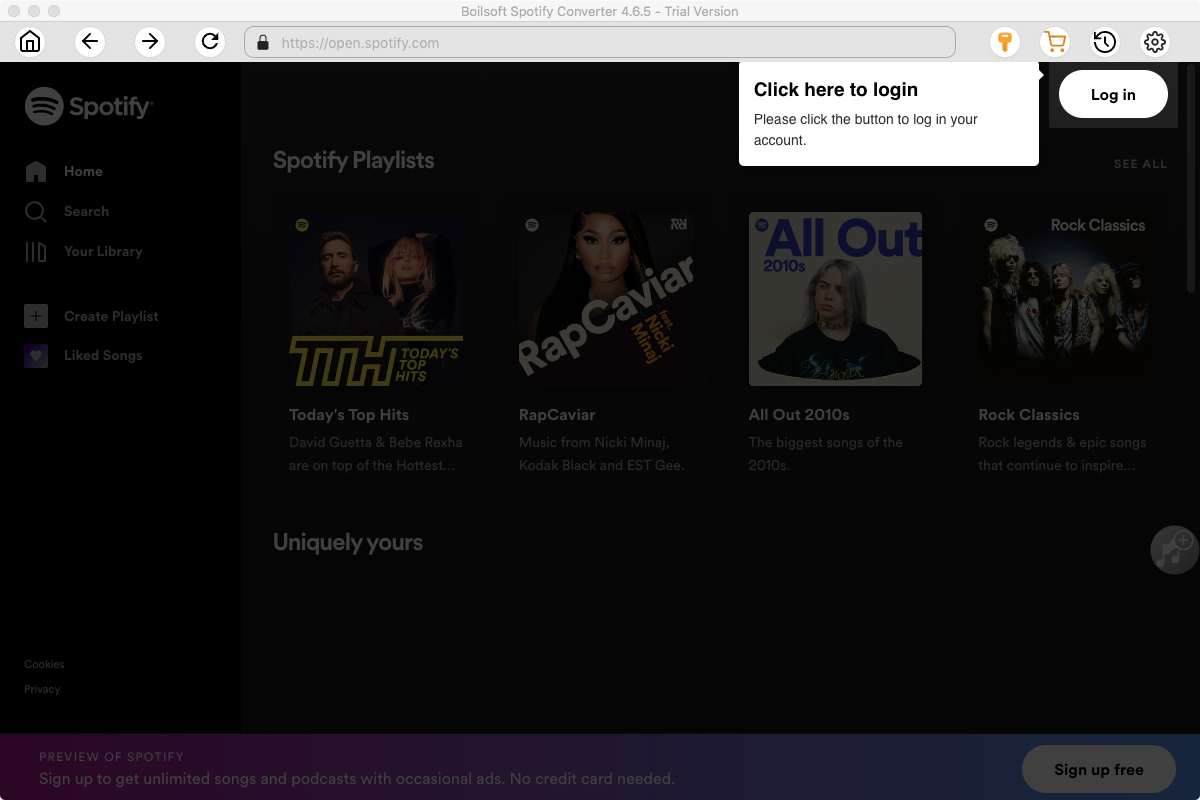 Step 3 Choose music format and quality.
Format: You can choose MP3, M4A, WAV or FLAC audio formats by clicking on the small down-arrow icon underneath the format heading. If you plan to transfer the ripped songs to an MP3 player then check to see what formats it supports; choose MP3 if unsure.
Audio Quality: The audio quality of the output songs can be adjusted. Select bitrate, samplerate according to your needs.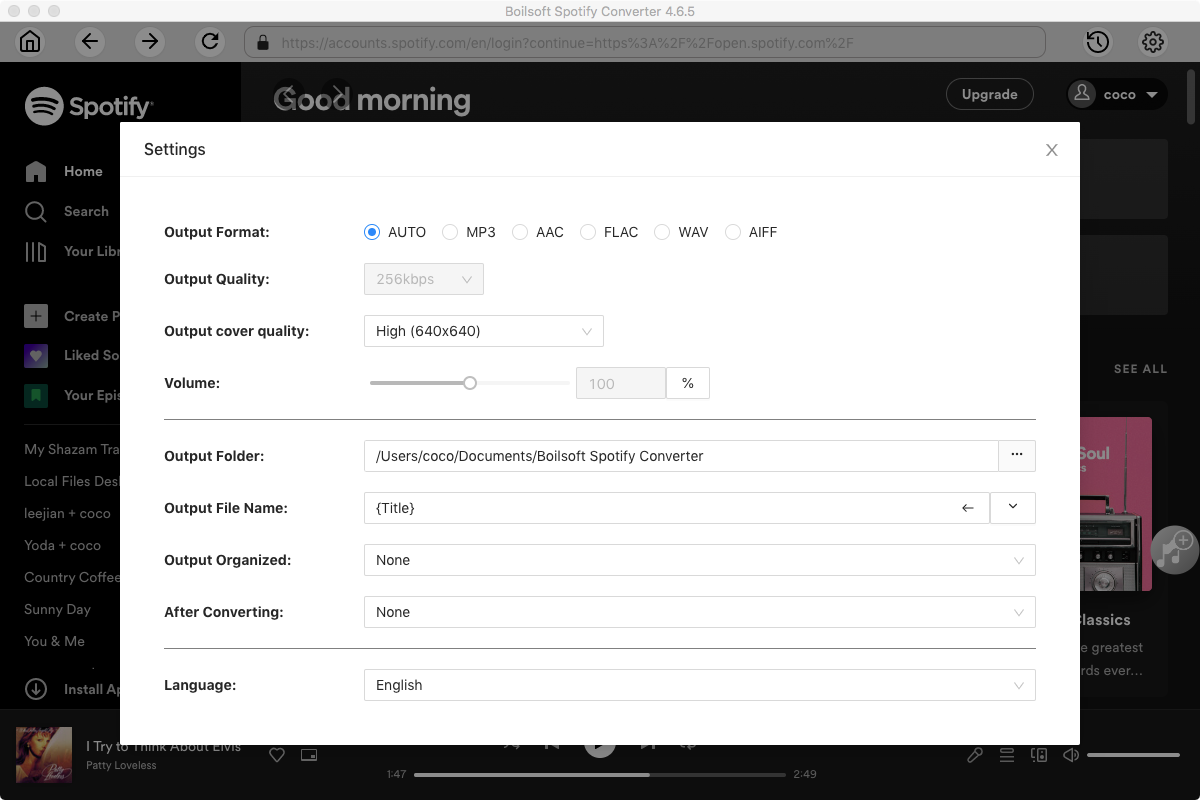 Step 4 Click the Convert button to start ripping Spotify music to the format you choose.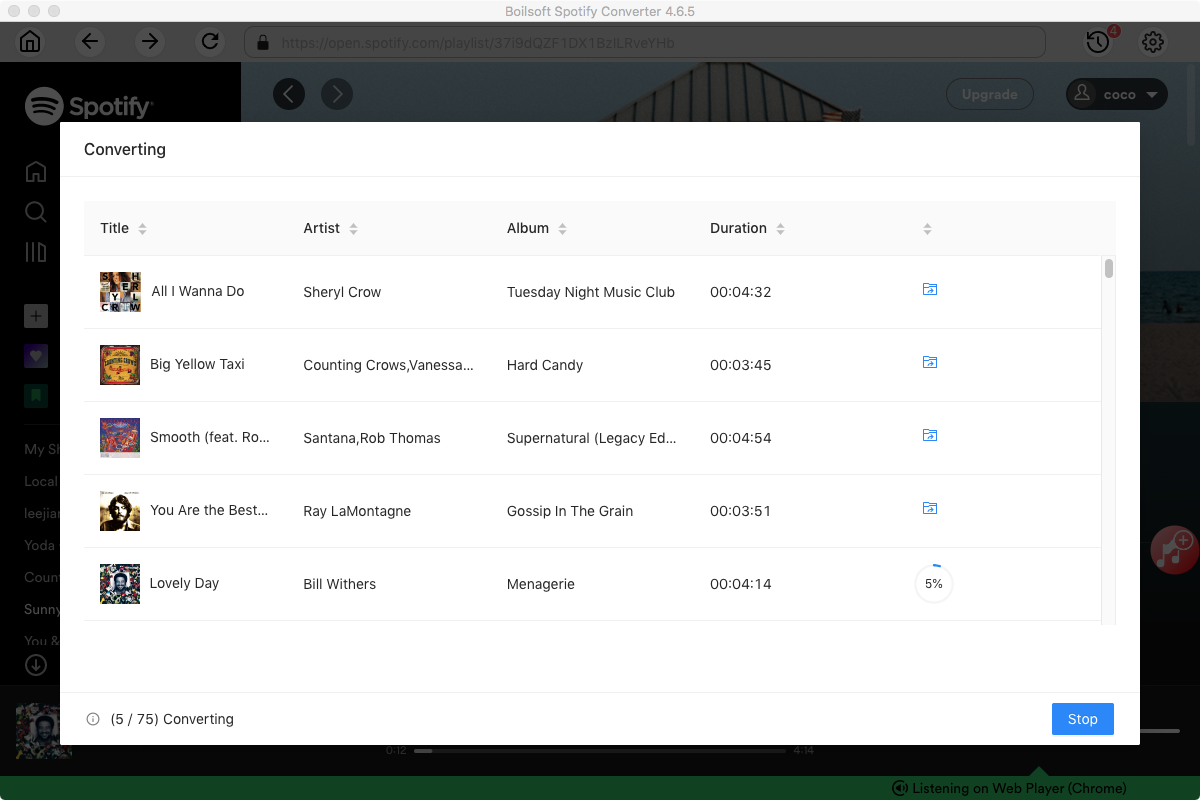 After conversion, you can find all converted songs by clicking the History button.
Read More: